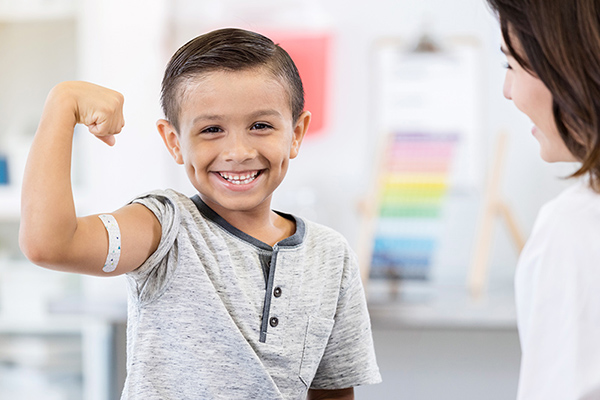 Every child deserves a healthy childhood. Wellsboro Pediatric Healthcare Associates has joined the Laurel Health Centers to create Laurel Pediatrics - Wellsboro: the same great care with even more services and greater access to care for families in need.
This partnership allows us to meet the growing pediatric needs of our community and provide more services to vulnerable children.
Laurel Pediatrics aims to give every child a healthier childhood. To make an appointment, call 570-724-7100.
Patients will see the same team of compassionate providers, nurses, and staff they have come to know and trust with their family, including Dr. Barry Clark and Kate Abadi, PA-C. The Laurel Pediatrics office is located at 1 B Main Street in Wellsboro, PA.
The Laurel Health Centers are National Quality Award winners dedicated to delivering expert care to all patients, regardless of ability to pay. Additional pediatric, specialty, and family medicine providers are available at our six Laurel Health Center sites, conveniently located throughout Tioga County in Blossburg, Elkland, Lawrenceville, Mansfield, Wellsboro, and Westfield, PA.
Need a provider? Visit our provider page to browse our online directory or call 1-833-LAURELHC (1-833-528-7354) to select the location and provider of your choice!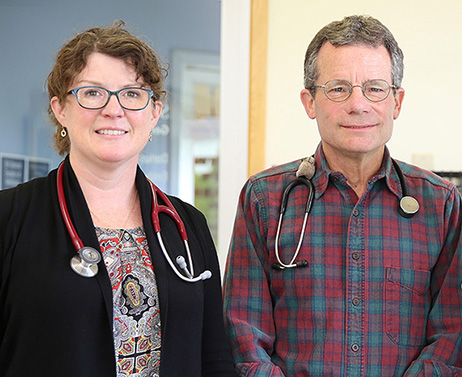 As federally qualified health centers, the Laurel Health Centers accept all major commercial insurances as well as Medical Assistance, Medicare, and sliding fee programs for uninsured, underinsured, and income-eligible patients.
For more information on the Laurel Health Centers, call 1-833-LAURELHC (1-833-528-7354).
To schedule an appointment with Laurel Pediatrics in Wellsboro, please call 570-724-7100.

Blossburg LHC
6 Riverside Plaza, Blossburg
Laurel Dental - Blossburg
116 Seymour Street, Blossburg

Family Medicine (6 Riverside)
Mon - Thurs 7:00 am - 5:00 pm
Fridays 8:30 am - 5:00 pm

Dental Services (116 Seymour St)
Mon - Thu 7:30 am - 4:30 pm
Fridays 7:30 am - 1:30 pm

570-638-2174 (LHC)
570-638-3468 (Dental)

Lara Jaussi, DO
Tina Doud-Kearns, CRNP
Kathleen Lamontagne, DMD
Stephen Ollock, DMD
Laura Brannaka, RDH
Kelsey Hermann, RDH
Jeremy Trowbridge, RDH


Lawrenceville LHC
32 East Lawrence Rd., Lawrenceville


Family Medicine:
Mon & Fri 8:30 am - 5:00 pm
Tues - Thurs 7:00 am - 5:00 pm


Dental Services:
Mon - Fri 8:00 am - 4:30 pm


570-827-0125 (LHC)
570-827-0145 (Dental)

Kyle Ungvarsky, MD
Kathleen Lamontagne, DMD
Phyllis Scott, MD
Michael Telehany, DDS
Kelly Carr, CRNP
Laura Brannaka, RDH
Kamryn Miller, RDH


Wellsboro LHC
7 Water Street, Wellsboro


Family Medicine:
Mon - Wed 7:00 am - 7:00 pm
Thurs & Fri 7:00 am - 5:00 pm
Saturdays 8:00 am - 4:30 pm

Chiropractic Services:
Mondays 7:00 am - 7:00 pm
Tuesdays 8:00 am - 4:00 pm
Wednesdays 7:00 am - 5:30 pm
Walk-in Care:
Mon - Fri 8:00 am - 4:30 pm

570-724-1010


Steven Heffner, DC
James Biery, PA-C
Liz Koury, PA-C
Scott Kroll, CRNP
Allison Moss, PA-C

Elkland LHC
103 Forestview Drive, Elkland

Family Medicine:
Mon - Fri 8:00 am - 5:00 pm


Chiropractic Services:
Thursdays 8:00 am - 2:30 pm

814-258-5117

Steven Heffner, DC
Sara Ritchey, PA-C
Hana Sullivan, Adult Geriatric CRNP
Annie Sumrall, Pediatric CRNP


Mansfield LHC
416 South Main Street, Mansfield

Family Medicine:
Mon - Fri 7:00 am - 5:00 pm

Chiropractic Services:
Mondays 7:00 am - 6:00 pm
Tues - Thu 8:00 am - 5:00 pm

Walk-in Care:
Mon - Fri 7:30 am - 5:00 pm

570-662-2002


George Dy, MD
Yekalo Beyene, MD
Michael Scalzone, MD
Sarah Taylor, DC
James Biery, PA-C
Spencer Castle, CRNP
Katie O'Reilly, CRNP

Westfield LHC
236 East Main Street, Westfield

Mon - Fri 8:30 am - 5:00 pm

814-367-5911


Mandy Spencer, PA-C
Laurel Behavioral Health Team

Troy LHC
45 Mud Creek Road, Troy


Family Medicine:
Mon - Thurs 8:00 am - 6:00 pm
Fridays 8:00 am - 5:00 pm

Dental Services:
Mon - Fri 8:00 am - 4:30 pm

Walk-in Care:
Mon - Fri 8:00 am - 4:30 pm

570-297-3746


Adam J. Hainley, DMD
Amanda Blasz, PA-C
Daniel Branzburg, CRNP
Tanner Bulkley, PA-C
Marcelinda Griffiths, CRNP
Todd Rudy, PA-C
Jenny Sparling, PMHNP
Maureen Strobel, CRNP
Linda Thorp, CRNP
Erin Barrett, RDH
Carmen Bates, RDH
Janee Overpeck, RDH
Andrea Pepper, RDH


Laurel Behavioral Health
Laurel Health & Wellness Center
40 West Wellsboro Street, Mansfield

Behavioral Health:
Mon & Thurs 8:00 am - 5:00 pm
Tues & Wed 8:00 am - 8:00 pm
Fridays 8:00 am - 4:30 pm

LHC Administration:
Mon - Fri 8:00 am - 5:00 pm

570-723-0620 (LBH)
570-662-1945 (Admin)

James E. Manning IV, MD
Gerald Cerrone, PhD
Jackie Wiand, Psychiatric PA-C
Kathryn Brodrick, ACSW, LCSW
Anne Anderegg, LCSW
Tyler Benelli, LCSW
Alyssa Hoffman, LCSW
Lori Makos, LCSW
Kristina Mielke, LCSW
Jenny Sparling, PMHNP

Laurel Pediatrics
1 B Main Street, Wellsboro

Mon - Fri 8:00 am - 5:00 pm



570-724-7100

Barry Clark, MD
Kate Abadi, PA-C

Pediatrics in the Valley:
Annie Sumrall, Pediatric CRNP
Elkland LHC & School-based Care
814-258-5117

Laurel Dental - Towanda
346 York Avenue, Towanda

Mon - Thurs 7:30 am - 4:30 pm
Fridays 7:30 am - 2:30 pm

570-828-3992

Lydia Hainley, DMD
Kelsie Davidson, RDH
Marion Jenkins, RDH