By Kristy Warren
Sometimes patients have acute health issues needing prompt attention that don't warrant a trip to the emergency room. Laurel Health developed a walk-in care program to better address acute medical needs that fall between routine primary care and emergency care. The program first launched at the Mansfield Laurel Health Center earlier this year and has now expanded to the Wellsboro Laurel Health Center, located at 7 Water St. in Wellsboro, PA.
Patients can now walk into the Wellsboro Laurel Health Center and request to be seen by the walk-in care provider on shift from 8 am – 4:30 pm, Monday through Friday. This walk-in service provides dedicated same-day access for patients with acute but non-emergency healthcare needs that require prompt attention like sprains, rashes, earaches, strep throat, sinus infections, tick bites, and UTIs.
Walk-in patients will see a provider whose schedule is solely dedicated to walk-in hours that day to assure they are seen in a timely manner without impacting appointment times for scheduled patients. If the patient's need is confirmed to be appropriate for walk-in care (i.e., not an emergency or routine follow-up), they will then wait to be seen until a walk-in care provider is available. Patients will wait in the waiting room or in their car based on their condition, the clinic's available space, and current safety protocols.
This walk-in service does not treat life-threatening emergencies like heart attacks, strokes, seizures, severe wounds / burns, or traumatic injuries that require triage, emergency, or inpatient care. Anyone experiencing a health emergency should continue to call 911 or go to the nearest emergency room.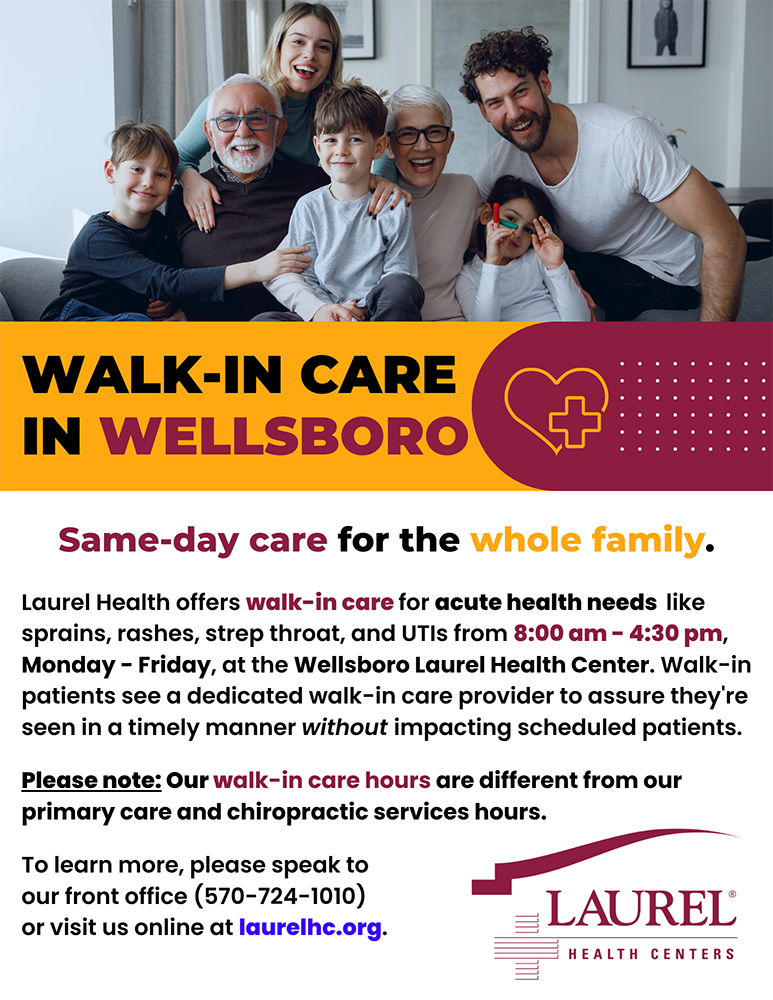 Walk-in care is intended for acute care needs. Wellness visits like physicals and well child checks as well as routine follow-ups for chronic conditions will continue to be scheduled appointments.
Conditions Seen by Wellsboro Laurel Health Center's Walk-in Service Include:
Sinus Infections


Minor Cuts and Burns


Sprains and Strains


COVID-19 Symptoms


Strep Throat / Cough


Cold and Flu Symptoms


Earaches



Pink Eye
Rashes


Urinary Tract Infections (UTIs)


Allergies  


Acute Onset Diarrhea


Tick / Insect Bites


Nosebleeds


Breathing Treatments for Asthma
and COPD Exacerbations
Laurel Health aims to provide the care you need when you need it. In addition to our new walk-in care hours, we offer early morning, late afternoon, evening, and weekend appointments to better fit your schedule.
The Wellsboro Laurel Health Center's hours of operation by service:

Primary care and family medicine services are provided at Wellsboro LHC:

Monday through Thursday from 7:00 am - 7:00 pm


Fridays from 7:00 am - 5:00 pm



Saturdays from 8:00 am - 4:30 pm
Chiropractic services are provided at Wellsboro LHC:

Mondays from 7:00 am - 7:00 pm


Tuesdays from 8:00 am - 4:00 pm


Wednesdays from 7:00 am - 5:30 pm



Walk-in care is provided at the Wellsboro LHC:

Monday through Friday from 8 am - 4:30 pm
Need help after hours? Simply call your Laurel Health office or 1-844-284-6589 to be connected to our 24/7 nurse triage line. Our nurse triage team can help you schedule appointments, relay a message to your provider, and answer your health questions. If you need emergency care, please remember to always call 911 or go the nearest ER.
For more information about Laurel Health's walk-in care service, call 570-724-1010 and stay tuned to our Laurel Health news page for all the latest updates and events.