Everything You Need to Know About Telemedicine
By Kristy Warren
When we think of a doctor's appointment, many of us still picture an exam room—but as technology evolves, healthcare is developing new ways to care for patients, including virtual visits. The Laurel Health Centers have launched more virtual telemedicine appointments by phone and video to make sure all our patients can be seen safely throughout COVID-19's "new normal" and beyond. Read on as Laurel Health experts share everything you need to know about telemedicine, how it works, and when you should use it.
Telemedicine is a term coined in the 1970s meaning "healing from a distance." It refers to healthcare providers diagnosing and treating patients from a distance using communication tools like phones and computers. It was first explored in the 1950s as a way to bring much-needed medical services to patients living in rural and remote places. In the following decades, healthcare saw a huge growth in technology, equipment, and communication capabilities.
Today, telemedicine allows healthcare providers to interact with patients virtually using a phone, laptop, computer, or tablet. Physicians can now collaborate around the world to provide expert care to patients no matter where they live.
A telemedicine visit, or "televisit" for short, provides a face-to-face consultation with your family doctor from the comfort of your own home. These virtual visits are conducted using audio and video so patients can interact with their provider in real-time, similar to video chatting on Facetime or Skype but using a special, secured healthcare platform. Connecting is easy, and Laurel Health's front office staff will walk you through the process.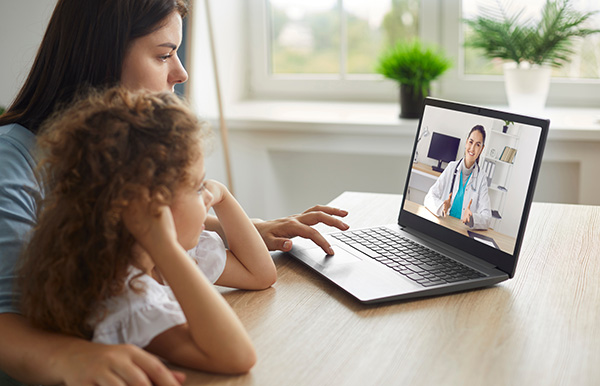 You do not need to download an app or have special equipment to schedule a televisit. All you need is an e-mail address and a phone or computer. If you have any questions about setting up or conducting a televisit, the Laurel Health Centers are always here to help.
Televisits are appropriate for non-emergency care. During a telemedicine visit, your provider can:
Evaluate symptoms and answer questions
Diagnose health issues
Order lab work, x-rays, or other tests
Prescribe medication
Manage chronic conditions or follow-up care
Provide preventive health and wellness guidance
For example, if you are worried your cut is becoming infected, you can schedule a televisit to discuss your symptoms and show your provider the wound; if antibiotics are needed, your doctor can send an e-prescription to your pharmacy, many of which offer curbside pickup or home delivery, and follow up with you in a few days to monitor your progress.
If at any point you need to be seen in person for more hands-on care or tests, your provider can easily transition you to the office. It is safe to come to the clinic for an in-person appointment, and the Laurel Health Centers have taken rigorous, long-term safety measures to protect our patients and staff from all contagious illness, including Coronavirus COVID-19.
BENEFITS

OF TELEMEDICINE VISITS
Telemedicine visits give you the freedom to be seen right from home. They are especially beneficial for patients with tight schedules, compromised immune systems, or caregiving responsibilities.
You don't have to travel to a clinic, which means no travel expenses; less time away from work, school, or child / elder care; and minimal interference with your daily routine.
A televisit also means you will have no exposure to other patients, which is especially important for people who are at higher risk of complications from contagious illnesses like the flu or COVID-19: seniors, those with chronic health conditions like diabetes, asthma or heart disease, and the immunocompromised (e.g., cancer or transplant patients).
As we tackle COVID-19, the Laurel Health Centers encourage telemedicine appointments when appropriate to reduce travel and time spent in public places. All Laurel Health locations offer both in-person appointments and televisits by phone or video chat, including the Laurel Health Centers, Laurel Behavioral Health, and Laurel Pediatrics.
It's important to remember that televisits are another option in our patient care toolkit; they don't replace the need for all in-person care, and they aren't appropriate for every situation.
The flexibility to see patients at the clinic or at home allows Laurel Health to care for all our patients while keeping our most vulnerable populations safe. You and your healthcare provider will discuss all of your care options and determine the best fit for your care needs together.
HOW TO MAKE A
TELEMEDICINE

APPOINTMENT
The Laurel Health Centers are offering more telemedicine appointments than ever to ensure you can receive the same great care from the comfort of your own home. To schedule a telemedicine appointment, call your local Laurel Health Center or 1-833-LAURELHC (1-833-528-7354).
Televisits are available to everyone. Co-pays or co-insurance may apply based on your healthcare plan. The Laurel Health Centers are committed to caring for all patients and ensuring their access to quality care regardless of ability to pay; if you are uninsured or underinsured, talk to our staff about the LHC sliding fee program.
For more information on telemedicine, COVID-19, or the Laurel Health Centers, stayed tuned to our news page or visit us on Facebook at facebook.com/laurelhc.