Laurel Health & Wellsboro Varsity Cheer Squad Partner to Raise Awareness
By Kristy Warren
This October, the Laurel Health Centers teamed up with Wellsboro Area High School's Varsity Cheer Squad to raise awareness for breast cancer and the importance of preventive screenings. The squad rocked LHC-sponsored pink shirts all October long for Wellsboro's pink out games.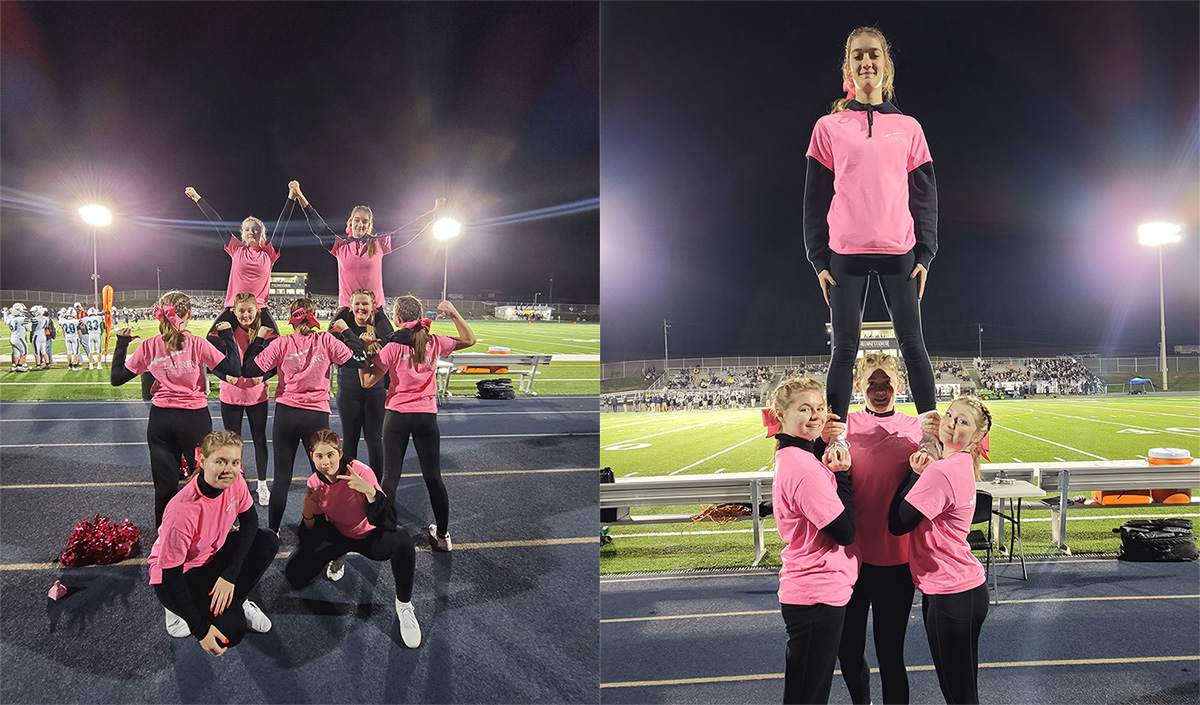 A big thank you to assistant coach Jess Sandstrom for capturing these photos and to the cheer team for their great work helping our community highlight Breast Cancer Awareness Month!
When it comes to beating breast cancer, catching it early makes a big difference, but many patients skip one simple screening that could save their life: a monthly breast self-exam. No two people or breasts are the same. A breast self-exam helps you learn your breasts' unique characteristics—and knowing what's normal for you helps you spot potential problems early.
If you have a menstrual cycle, examine your breasts at the same time each cycle, preferably just after your period when your breasts are not as dense. If you don't have a cycle, pick the same time each month. Through routine exams, you'll learn what is normal for you.
In addition to regular breast self-exams, you can stay on top of your breast health by eating well, exercising, quitting tobacco, and maintaining a healthy weight. Eat a diet high in fiber, vegetables, and fruit, lower your fat and sugar intake, and aim for at least 20 minutes of exercise daily.
HOW TO COMPLETE A BREAST SELF-EXAM:


Place your right arm behind your head



Using your left hand, gently move your fingertips around your right breast in small, circular motions; make sure to feel your entire breast area and into your armpit



As you continue circling, move from light to medium pressure and finally to firm pressure. Does anything feel sore, lumpy, or unusual?



In a mirror, look for any dimpling, rashes, or pitting in your breasts



Squeeze the nipple and check for discharge




Repeat these steps for your left breast using your right hand, with your left arm positioned behind your head
If you aren't sure you are doing the self-exam correctly, ask your healthcare provider to perform a breast exam on you, so you can learn the technique firsthand and feel confident performing the exam on your own. Your Laurel Health Center provider can answer any questions you may have about what to watch for and how to check yourself at home.
Click here for more information on performing breast self-exams, what to watch for, and when to call your doctor for guidance.