Laurel Health Receives AllOne Foundation Grant to Further Community Wellness
By Kristy Warren
Family medicine plays a critical role in our overall health, helping us stay on top of our wellness and catch potential problems early through preventive health screenings and check-ins. In 2020, many of these important screenings took a backseat to the COVID-19 pandemic, but it's important not to delay necessary care too long. To help patients get back on track with their wellness, the Laurel Health Centers applied for a grant to launch a new community health outreach program.
Thanks to a $300,000 grant from the AllOne Foundation, the Laurel Health Centers were able to hire and train a team of community health educators to improve access to care and act as personal healthcare advocates throughout Tioga County. The goal of the program is to help patients stay on top of their health, upcoming screenings, and appointments to improve their overall health and wellness.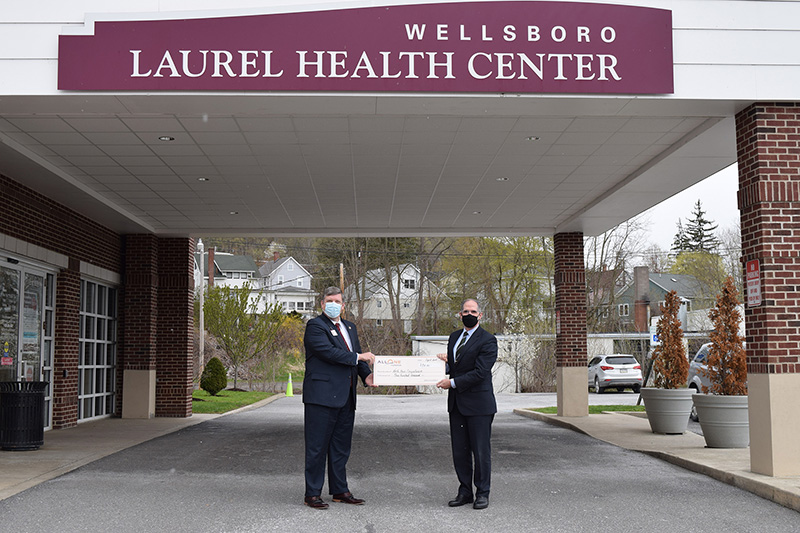 Photo caption: James A. Nobles, President & CEO of the Laurel Health Centers, accepts a check donation from the AllOne Foundation presented by John Cosgrove, Executive Director, to launch a new community health outreach program focused on improving access to quality care and local wellness initiatives.
"The Laurel Health Centers are committed to putting patients first through a whole-person approach to care, meaning we aim to address all the health needs of each patient—physical, mental, emotional, and social. These new care coordinators make it easier to get the care you need whenever and wherever you need it," explains James A. Nobles, President & CEO of the Laurel Health Centers. "Laurel Health's outreach program helps patients arrange appointments and referrals, discuss treatment options, and access vital resources—not just at our sites, but across other specialty offices, hospitals, healthcare services, and community programs."
Laurel Health is also partnering with Mansfield University to create an internship opportunity to support the university's community health education program, which teaches advocates how to connect patients to the resources and care they need.
The Laurel Health Centers offer award-winning family medicine, behavioral health services, and specialty care for the whole family throughout Tioga County, including sites in Blossburg, Mansfield, Lawrenceville, Westfield, Elkland, and Wellsboro, PA. The Laurel Health Centers are committed to serving everyone regardless of their ability to pay, offering a sliding fee scale to ensure all patients receive the quality care they need. Services include primary care, pediatrics, women's health, dental services, preventive wellness care, internal medicine, chiropractic care, sports medicine, mental health counseling, nutrition / diabetes education, care coordination, chronic disease management, insurance enrollment assistance, and more.
For more information, to make an appointment, or to utilize the community health educator program, call 1-833-LAURELHC (1-833-528-7354) or visit our contact page.